Master Michael Paul Williams
Founder Aikido Goshinkai
Founder of Aikido Ki Society Australia, 1981
Appointed Chief Instructor of Aikido Ki Society Australia by Master Koichi Tohei, 1985
Founder Goshinkan Dojo in Byron Bay, 1991
Founder of Aikido Yuishinkai Australia, 2002
Appointed Chief Instructor Aikido Yuishinkai International by Master Koretoshi Maruyama, 2003
Received Griffith University Distinguished Service Award, 2006
Awarded 10th Dan by Master Koretoshi Maruyama, 2010
Founder Aikido Goshinkai, 2014
0449820980
mw.aikido@gmail.com

Elisabeth Andel
Elisabeth Andel was introduced to the art of Aikido by Michael Williams Sensei​ and was immediately impressed by the way the principles of Ai (Harmony) Ki (Energy) Do (Life path) blended seamlessly into daily life and then and there became a dedicated student of the art.
In 2000 she was appointed Assistant Lecturer by Master Koichi Tohei and became a senior instructor at the Byron Bay Aikido Club (Goshinkan Dojo).
In 2002, following Williams Sensei's change of direction, she joined Master Koretoshi Maruyama into his newly founded Aikido Yuishinkai organisation.
Between 2004 and 2012 Elisabeth Andel accompanied Maruyama Sensei as PA on his yearly international tours, attending over 40 international seminars in Europe, the US, Canada, Japan and New Zealand, producing seminar videos and gaining invaluable experience and insights into the art along the way.
In 2012 she was awarded 7th Dan by Master Koretoshi Maruyama, Aikido Yuishinkai, and in 2014 by Michael Williams Sensei, Aikido Goshinkai.
In 2016 she ​opened a training space in her home in Ewingsdale​, which was named 'Setsudo'​​ by Williams Sensei.
In Aikido we train to win against our own weaknesses, not to defeat a training partner. Only this kind of victory is true victory. Masakatsu agatsu.
0403 350844
ea.aikido@gmail.com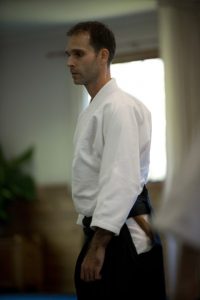 Mark Evans
Mark Evans has been studying Aikido since the early 90's and has trained extensively in Aikido dojos throughout the UK, Australia, and Japan. He is a senior instructor at the Aikido Goshinkai headquarters in Byron Bay, and is a direct student of the founder Michael Williams Sensei. In 2010 he spent 12 months living in Japan as a soto-deshi with Taiki Okajima Sensei (10th Dan, Aikido Yuishinkai). His main emphasis in training is the understanding, and application, of the basic Aikido principles, which lead to 'easy Aikido' through relaxed strength. Although self defence is a key aspect in any martial art training Mark also teaches the practical application of Aikido principles in daily life.
In 2014 he started the Shako Dojo in Mullumbimby where Michael Williams Sensei performed the opening ceremony.
In 2015 he was awarded 5th Dan by Michael Williams Sensei, Founder Aikido Goshinkai.

Aikido in Mulllumbimby website 
Aikikids:
Joanne Martin
 Joanne started studying the art of aikido in nineteen ninety eight and has trained under Michael Williams Sensei, the founder, for the majority of that time as well as attending yearly seminars from the Japanese instructors such as Kataoka Sensei, Maruyama Sensei and Will Reed Sensei. Of particular interest have been the ki healing arts and she continues to use these principles in her massage and body work practice. She started teaching kids class assisting Williams Sensei then took over the primary role teaching kids classes when he left for Fiji in 2oo6. She is a senior instructor in Byron and her love is teaching kids, sharing the magic of aikido, watching them grow, evolve and become more confident and grounded in any of their pursuits.
In 2015 she was presented with a 5th Dan from Michael Williams Sensei, Founder Aikido Goshinkai and continues along the path of aikido, a path of peace.

02 6685 9787
0409 604650
jomart811@yahoo.com.au